Rapsodo Baseball
Pitching CERTIFICATION
Understand the Data. Maximize Performance.
To help baseball players achieve their full potential, coaches must use data as the cornerstone for their player development programs.

Learn how to understand data terminology and how to implement data to maximize player performance and get the most out of your players.
Earn your Rapsodo Baseball Pitching certification in less than 4 hours.
*Courses available in English only
Comprehensive and Actionable
We worked with our team and advisors to make concepts and terminology a 'second language' for the Rapsodo community. The course is all online and video-based (more than 160 minutes of content), with a series of specific modules and dedicated quizzes. It goes beyond the definitions, giving you validated and immediate ways to implement this knowledge in your coaching.
The course was designed and delivered by Rapsodo data experts Seth Daniels and Brian Page. It features leading coaches and industry experts to show you how "those that do it best" are using technology and data to develop players, measure performance, increase competition in practice and conduct year-round training.
From master concepts to immediate applications, the Rapsodo baseball pitching certification was developed to help you advance your knowledge and understanding of data. See immediate results in your player development program with a Rapsodo Certification.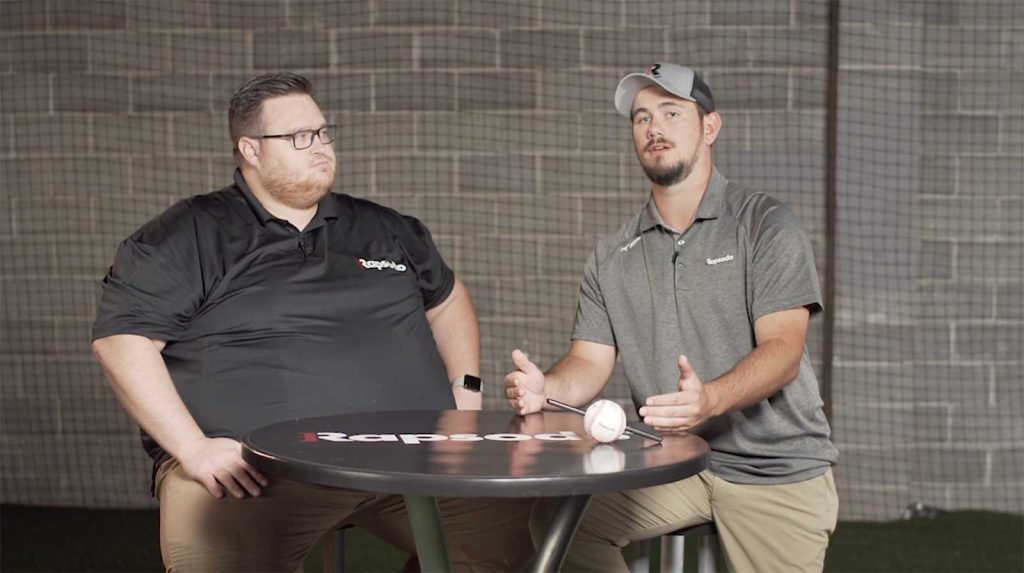 Delivered To You By Our Data Experts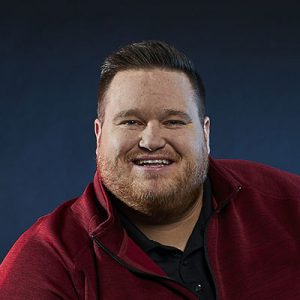 Director, Diamond Sports, Rapsodo
Seth has more than ten years of experience in the baseball industry, including four years as a collegiate pitcher. Seth received his undergrad and graduate degrees from Anderson University. Seth was one of the founding partners of the diamond sports sector of Rapsodo. He is a thought leader in the baseball community and aims to improve player development with the use of data.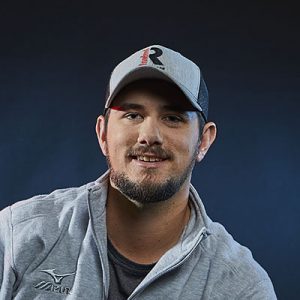 Manager, Key Accounts, Rapsodo
Brian is responsible for MLB Relations and helping coaches understand and use the data. He was a four-time starting pitcher at Anderson University and played in the Prospect League for two years before coming to Rapsodo. Brian was the second U.S.-based employee for Rapsodo. He is a Rapsodo data expert and enjoys working with players to help them understand and implement it to improve performance.
Featuring Industry Experts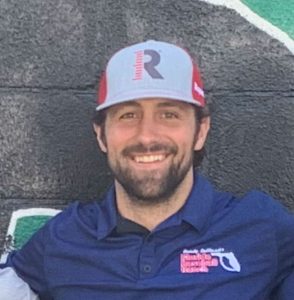 Wes McGuire is the Director of Player Development for The Florida Baseball Ranch. He is a Lenoir- Rhyne graduate class of 2016. His passion for player development began as a player at a Division 2 school at a time when velocity training was beginning to gain some traction. He coached one summer in the Coastal Plains League for the Peninsula Pilots before starting his own velocity program in Parker, CO. Over the next two years his program grew from a few young travel ball athletes to include two major leaguers and local high school and college athletes. He then served as the Director of Pitching at 108 Performance managing a majority of assessment, on floor training, and pitch design. At The Florida Baseball Ranch Wes specializes in tech integration and pitch design.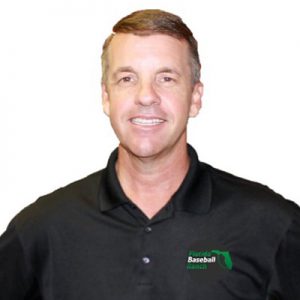 Florida Baseball Ranch - CEO
Randy has combined his skills as a Physical Therapist and a baseball coach for over 26 years. Randy received his Bachelor's Degree in Physical Education from The Citadel, The Militar College of South Carolina and his Master's Degree in Physical Therapy from The US Army-Baylor University Graduate Program in Physical Therapy. Randy has written seven books on baseball training including Start With The Pain: The Complete Guide To Managing Arm Pain In The Elite Throwing Athlete, a revolutionary self-organization model for managing pain. Randy has worked with major leaguers, Justin Verlander, Jake Odorizzi, Cody Allen, Mark Lowe, Chien-Ming Wang, Kyle Gibson Austin Adams, Tyson Ross, Kohl Stewart, as well as first-round draft picks, Alex Faedo, Nick Howard, an Logan Gilbert along with hundreds of other highly performing "Ranch Guys" from around the world.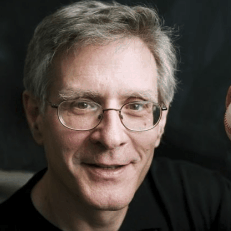 Alan Nathan is Professor Emeritus of Physics at the University of Illinois, where he has been a faculty member since 1977. He received his undergraduate degree from Maryland in 1968 and his Ph.D. at Princeton in 1975. Starting in the late 1990's, he began devoting some of his research time to the physics of baseball. On this topic he has written many articles, both for academic journals and on-line baseball publications and has given numerous talks to a variety of different audiences.
Get the most out of your players
Turn data into insight and help your players achieve their full potential with data-driven player development programs.
Learn, apply, and deliver performance results
*Courses available in English only
What other coaches are saying
This certification is amazing. It helped me understand the data and I was able to see immediate results with my players!
This certification is amazing. It helped me understand the data and I was able to see immediate results with my players!
This certification is amazing. It helped me understand the data and I was able to see immediate results with my players!
Includes over 160 minutes of HD video content

As part of the Rapsodo Certified Coaches Community you will receive the following benefits:
Access and learn on all your devices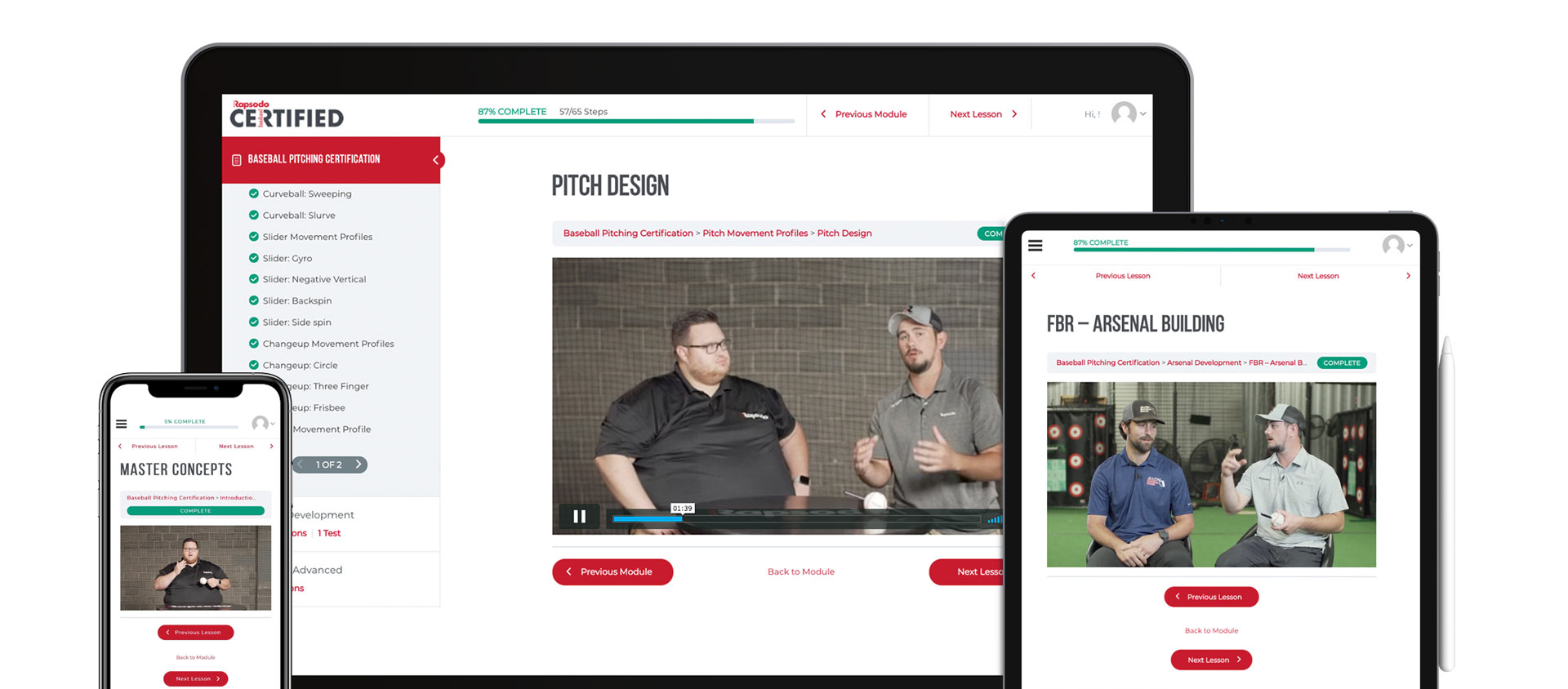 Join the growing community of Rapsodo Certified Coaches. Make the most of the data and maximize performance!
Don't get left behind
*Courses available in English only